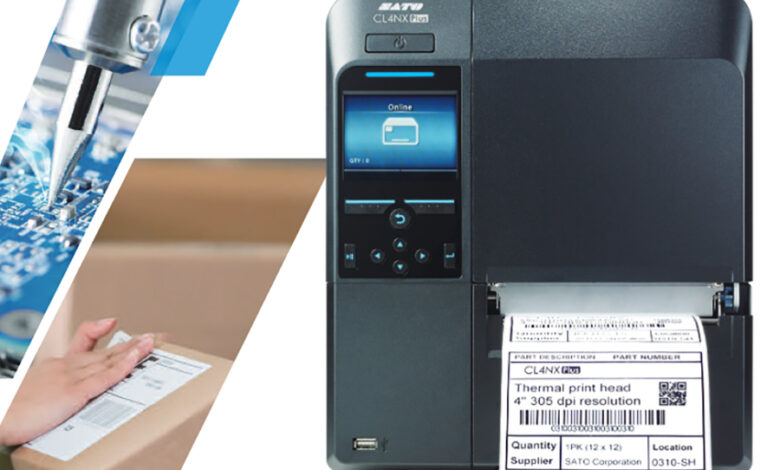 Thermal Transfer Printer Review – Sato CL4NX Printer
The Sato CL4NX printer series of thermal transfer industrial printers are among the best in their class. They are widely used across industries including aerospace, automotive, education, healthcare, manufacturing, and wholesale.
In fact, it's hard to find an industry where this popular series has not caught on. In this review, we'll pay special attention to the Sato CL4NX Plus, the latest and best-equipped thermal transfer printer in the series. Read on to find out more.
Sato CL4NX Printer – Versions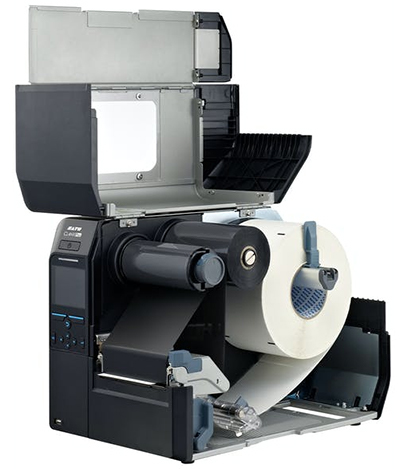 The Sato CL4NX is available in a standard version, Plus version, and an RFID version for both of these which supports NFC, UHF, and HF tag and label printing with data encoding. The Sato CL4NX Plus has a faster print speed, micro-label print mode, and other high-end features.
Both the standard and the Plus versions are available at three different printing resolutions: 203 dpi, 305 dpi, and 609 dpi. The Plus version comes with a faster printing speed of 14 ips mm per second compared to up to 10 ips for the 203 dpi standard version.
Sato CL4NX Printer – Features
Print size: up to 4.09 inches (104 mm)
Print speed: up to 355 mm per second
Optional 10-inch roll holder
Application Enabled Printing platform makes possible printing through supported devices like keypads or scanners
Support for 31 pre-installed languages
60 degrees wide print head opening
Sato CL4NX Printer – Pros
High precision – With its CL4NX series, Sato delivers one of the most accurate thermal transfer printing experiences available.
Micro label print mode – Sato CL4NX thermal transfer printers can print very small label sizes of less than 53 mm in length, something which not all printers can handle.
Reduces downtime – Sato CL4NX uses a 10-inch OD media supply with a ribbon of up to 600 meters. The large media can save you time reloading the printer.
Top printing speed – With a printing speed of up to 14 inches per second at 305 dpi, the Sato CL4NX Plus is at the time of writing the fastest printer in its class.
Video guidance – The full-color LCD menu includes instructional videos that can help you and your team become familiar with this printer more quickly.
SATO RF Analyze (SRA) – The proprietary antenna and inlay settings optimization technology can help you reduce printing errors and speed up the entire process.
Printer emulations – Built-in emulation technology brings you better results and helps you take the guesswork out of the process.
Quick and simple maintenance – Large opening angle and convenient media replacements make the Sato CL4NX easy to maintain.
Sato Online Services – Sato provides a cloud-based maintenance platform through which you can manage multiple printers from the same dashboard and minimize downtime.
Sato CL4NX Printer – Cons
Larger footprint – The Sato CL4NX takes more space than other thermal transfer printers. While it's by no means bulky, you may have to consider its placement before you get it—it's the price you have to pay for its features.
Higher cost – The CL4NX series, and in particular the Plus model, features higher-end features that drive up the cost of this printer beyond that of other products in this category.
Long continuous usage – The Plus version holds 30% more media than competitors, making it an inspired choice if you need to continuously run a printer.
Sato CL4NX Printer – Verdict
The Sato CL4NX series of printers offers speed, advanced features, and versatility. Usable across diverse industries including micro printing and higher volume projects, these printers are strong contenders for the position of the best printers in their class. The CL4NX Plus in particular enhances the standard model and further increases its versatility.
At the end of the day, quality costs, and if you're willing to spend for top features, then the Sato CL4NX thermal transfer printers are an inspired choice that will help you get the job done without making any compromises.
Additional Resources – Thermal Transfer Printers
Sato CL4NX Plus – The CL4NX Plus printer offers a vast array of standard features that are unequaled by its competition.