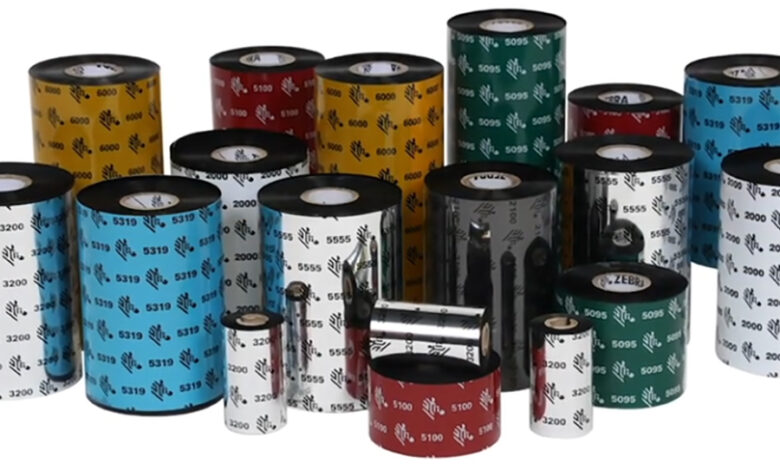 What Are Thermal Transfer Ribbons?
Thermal transfer ribbons are pieces of polyester film coated with different layers, including an ink layer. When heated by the thermal head of a thermal transfer printer, they transfer the ink layer to a label that can then be applied to goods, packages, equipment, and more.
Thermal transfer ribbons are used to print labels, barcodes, and other variable and non-variable information. Learn more about the uses and benefits of thermal transfer ribbons.
Types of Thermal Transfer Ribbons
Thermal transfer ribbons (T.T.R) can vary in their print sensitivity. The main types of ribbons include:
Wax thermal ribbons – Wax ribbons are used for printing uncoated paper. They can fill uneven surfaces and transfer at low temperatures, resulting in a high print density. They are commonly used for barcodes.
Wax resin thermal ribbons – Wax resin ribbons use hard resin and soft wax to deliver prints that are resistant to rubbing, scratching, and chemicals. They require high temperatures for transferring ink and can be printed quickly. They are often used for packaging.
Resin thermal ribbons – Wax resin ribbons use resin to capture the ink, ensuring very high resistance to abrasion and chemicals. They are transferred at a very high temperature and are used to label laboratory samples, chemicals, and industrial products.
Thermal transfer ribbons come in different sizes, according to the printer they are used with. Short-length ribbons are for desktop thermal transfer printers. Longer-length ribbons are for industrial printers.
Thermal Ribbon Uses

Thermal Transfer Labels printed using thermal transfer ribbons can be used to create barcodes for shipped packages. They can withstand transit between multiple warehouses and locations while remaining clear enough for barcode scanners to read the information from them during each checkpoint.
Used in this way, thermal transfer ribbons facilitate package tracking every step of the way while saving both shipping companies and their clients the hassle of lost packages.
T.T.R. can also be used to print inventory labels for items of different sizes. These may be applied directly to an organization's hardware and other equipment to facilitate their tracking, upgrade, and maintenance. It can also simplify inventory processes in a large organization.
Other use cases for thermal transfer ribbons include printing expiry dates, batch codes, warning signs, and any other labels or signs that need to be durable.
Benefits of Thermal Transfer Ribbons
T.T.R enable printing that is more durable than conventional printing. Materials printed using thermal transfer ribbons can withstand heat, abrasion, and chemicals. This makes them a reliable choice in a variety of industries.
Another advantage of thermal transfer ribbons is that they facilitate the printing of custom labels on a large scale.
Using a thermal transfer printer, organizations can print custom labels designed using thermal printing software quickly and inexpensively. These labels can then be scanned to facilitate tracking and more.
Thermal transfer printers can work at high speeds without requiring extensive maintenance. Printers can also be controlled remotely.
Choosing Thermal Transfer Ribbons

Thermal transfer ribbons are not all made equal. The choice of a ribbon really depends on the transfer printer you have and its intended use. For best results, you need to make sure that:
The resulting print quality is good enough to make the label or sign readable and, if necessary, scannable.
The quality of the print will not deteriorate in the environment it's used in, for example during transit between locations.
The ribbon is compatible with the printer you are using and won't be damaging the print-head or slow down the printing speed.
The resulting print can be easily applied to the item or product it is intended for.
The ribbon has good back coating that protects the print-head from excessive heat and damage.
When choosing thermal transfer ribbons, it's important to pay attention to all of these factors. If you're not sure about the quality of a ribbon, it's best to test it and ask for clarifications. That way you'll get the best results without headaches.
Additional Resources
Zebra Ribbons – Prolonged print-head life, decreased total cost of ownership and exceptional scanning performance.
IIMAK Ribbons – As the first manufacturer of TTR in America, IIMAK provides you with the broadest product offering in the market
Sirius Ribbons – With our proprietary backcoat, consistent quality and exceptional service, Sirius ribbons really help your business shine.