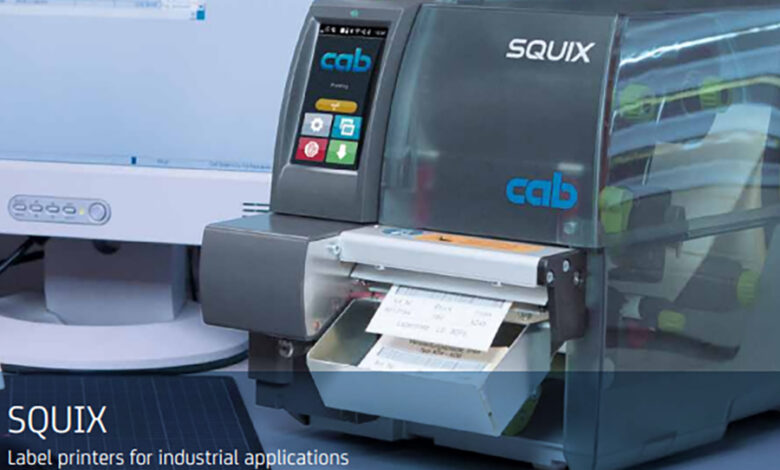 Thermal Transfer Printer Review – Cab SQUIX 4
The Cab SQUIX 4 is a professional thermal transfer printer designed to be reliable and easy to use. It comes in several versions that enable you to customize your printing experience for optimal results. In this Cab SQUIX 4 thermal transfer printer review, we'll look at the different versions available, zoom in on the key features, and note the pros and cons you need to know before making your choice.
Versions
The Cab SQUIX 4 is available in two different versions. The standard one features a 300 dpi with a print speed of up to 300 mm per second. There is also a 600 dpi version with a print speed of up to 150 mm per second.
The basic Cab SQUIX 4 comes with a tear-off plate but you can opt instead for an upgraded version with an internal rewinder allowing for peel-off functionality. Cab also offers the SQUIX 4 M and the SQUIX 4 MT with a centered material guide for continuous printing and textile materials respectively.
Note that Cab sells several other thermal transfer printers in the SQUIX series that look similar but are slimmer or wider in design.
Features
Printing resolution: 300 dpi with 600 dpi optional
Printing speed: 300 mm per second for the 300 dpi printer
Printing speed: 150 mm per second for the 600 dpi printer
Printing width: 4.16 inches maximum printing width for both versions
Media capacity: 8 inches
Optional features: peeler, cutter, dispenser, applicator
Pros
Color LCD display – Whether you're new to thermal transfer printing or an experienced user, the LCD display built into this printer makes setting it up and using it quick and easy.
Modular construction – The Cab SQUIX 4 was designed to make it easy for you to add a perforator, stacker, or cutter to it. The modular build comes in handy if you need to optimize your thermal printing experience.
Mobile functionality – As with other Cab printers, the SQUIX 4 supports mobile printing from a smartphone, which can save you time.
Inspired design – The bi-fold cover and overall compact design make this printer easy to access when you have to change printing media. It doesn't look bad either.
Simple maintenance – The Cab SQUIX 4 was designed to be easy to maintain. Also, it comes with maintenance instructions built into the LCD screen which can simplify the job if you have never had a Cab before.
Notification system – This printer makes it easier for you to deal with stuck labels or other media sensor problems. It sends you a notification whenever there's a problem so you can open the cover and check the problem.
Convenient – The SQUIX 4 lets you store frequently used label formats for quick access and also allows for hassle-free low-volume printing.
Cons
Susceptible to environmental damage – The plastic cover may help to reduce the cost of this printer, but in a healthcare or industrial setting it may be susceptible to damage from sanitization or other procedures.
Adjustment tool not for everyone – The Cab SQUIX 4 lets you calibrate the printhead for an optimal printing experience through a built-in adjustment tool. But it's easy to misuse this tool, which can affect the printing quality. You may want to remove it if multiple people have access to the printer.
Verdict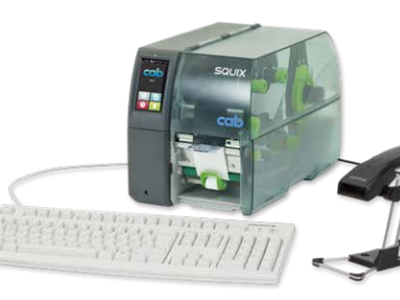 The Cab SQUIX 4 is a popular thermal transfer printer providing a high printing quality and a balanced mix of features. It's easy to use and reliable for up to medium-volume printing jobs, including small-scale printing.
You can use it across industries, except in environments that may damage the plastic bi-fold cover. Overall, you're looking at a convenient and versatile choice you can count on.
Additional Resources – Thermal Transfer Printers
SQUIX 4 M – Cab documentation on the SQUIX 4 M thermal transfer printer.
SQUIX 4 MT – Cab documentation on the SQUIX 4 MT thermal transfer printer.