Labels
Thermal Transfer Label Material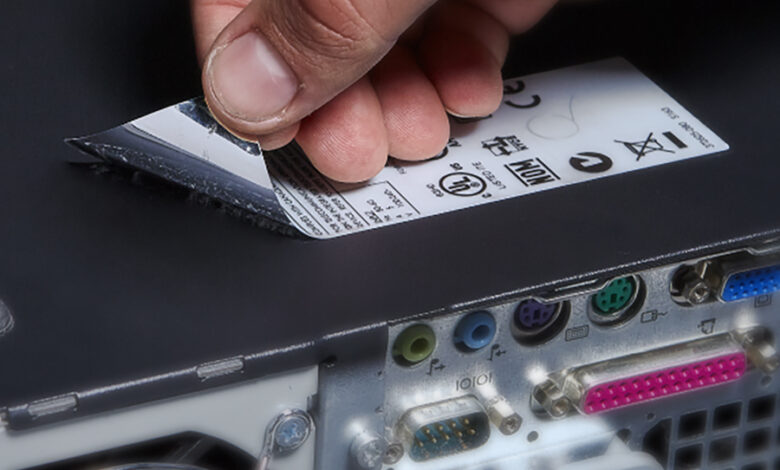 Thermal Transfer Label Material
If you decide to use thermal transfer labels, you'll have to choose the material your asset tags are made of. This choice depends on the environmental conditions you need to use the labels in.
If you need labels for stocks, equipment, digital gadgets, or any other type of moveable assets which are stored indoors, at normal room temperature, you can use regular paper labels. For special weather conditions or industrial settings, you should go with a more resistant material.
Here are all the materials typically used for thermal transfer labels.
Thermal Transfer Label Material – Paper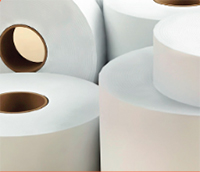 These labels are made of special matte paper, not the regular paper you use for your copy machine. This type of paper reacts to the heat produced by the printhead to generate a black marking, the barcode, and the corresponding numeric or alphanumeric code.
The quality of the print is excellent and the barcodes can easily be read with a handheld scanner. The labels are guaranteed to stick to the surface they are applied to. Paper labels are widely used for shipping and packaging purposes.
Thermal Transfer Label Material –  Plastic
Plastic labels are more resistant than paper ones. They can be used indoors as well as outdoors, as they are water-resistant. Also, the print quality is better and there's no risk of smudging.
Thermal transfer plastic labels are flexible enough so you can apply them to any type of surface, flat or curved. These labels can be used on various materials, such as plastic, metal, or textured surfaces. They are recommended for challenging weather and environmental conditions.
The print won't fade even under prolonged exposure to UV light. These labels can withstand high temperatures unaffected.
What's more, the adhesive used for them will hold strong no matter the temperature the labels are used in. There's no risk they will peel off even if they are subjected to high temperatures.
Thermal Transfer Label Material – Polyester
Ask any expert and they will tell you that polyester labels are the best. They have better durability and they won't be affected by environmental conditions in any way. By the way, you cannot make polyester labels using the direct thermal printing method. That only works with paper and plastic.
Thermal transfer polyester labels are virtually water-proof and they cannot easily be destroyed as they are scratch and tear-resistant. If you need labels to use on outdoor equipment and machines, polyester is your best choice.
Thermal Transfer Label Material for Special Applications
There are thermal transfer labels with specific functions. Let's take a closer look at them.
Chemical-Resistant Labels
This is a special type of polyester thermal transfer label. The polyester is made using a special formula, which makes it resistant to common chemical substances. As a result, these polyester labels won't smudge and won't be destroyed when they come in contact with a chemical substance.
You should choose this type of label if the assets they are applied on may come in contact with bleach, alcohol, acetone, gasoline, diesel oil, brake fluid.
Retro-Reflective Labels
These labels are made of premium silver polyester. The silver particles allow the label to reflect light, which is why they are called retro-reflective. Such labels are best for assets that should be scanned from a distance, usually up to 45 feet.
They are most suitable for use in a warehouse where you store a lot of assets and some of them may be difficult to reach. As the label is retro-reflective, there's no need to crawl your way near the asset. You can scan them from a comfortable distance in a couple of seconds.
UPC Labels
If you're in the retail business, you know about Universal Product Codes. Whatever it is that you're selling, every item should have a UPC label on the packaging. Large retailers selling mostly mass-produced goods don't have a problem with that as most items already come with the UPC printed on the package.
However, small retailers often need to print their own UPC labels. These are usually made of matte paper as the products won't be exposed to harsh conditions and won't remain on the shelf for a long time.
Thermal Transfer Label Materials – Resources
Whatever material you choose, make sure to talk to the manufacturer and purchase the best type of ribbon for it.